Rope Access Building Maintenance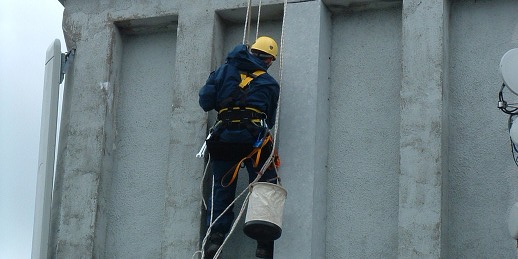 We firmly believe that the outside of your building or asset should not suffer just because some of the areas that need attention are in hard to reach places. Regardless of the maintenance or repair work required to bring the building back up to standard our professional rope access technicians can help.
Not only is rope access a cost effective and environmentally kind option for building maintenance and repair but it can be the most effective. Our technicians are able to ascend, descend and traverse around and across your building ensuring we can reach places no other access method can.

It is tempting for companies to leave these maintenance tasks too late as they believe they will be too hard to carry out or are to cost prohibitive to fit within their maintenance budget. We work with our clients to put in place preventative maintenance packages ensuring no part of the building is left untreated or exposed thus reducing the need for emergency repairs that can be costly.

NG Rigging carry out all manner of building maintenance using rope access techniques including roof and gutter cleans, downpipe repair, unblocking and removal, window cleaning and mastic application, render repair and removal, brickwork repointing and general maintenance and cleaning.

NG Rigging have rope access maintenance and repair teams on standby - Contact us for a quotation

Case Study
Radar Dome Painting
NG Rigging have painted quite a few radar domes at various locations around mainland UK, as with all observation areas they are normally positioned at the highest points in the land where access can be an issue.
read more