Survey and Design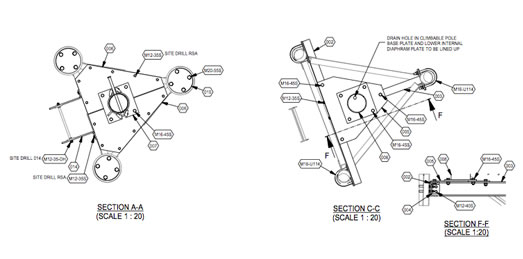 NG Rigging delivers a range of services to the telecommunications industry from initial site survey, through concept stage, to final design and installation. We specialise in the bespoke design of new structures and steelwork installations on existing masts, towers and buildings. We also carry out structural tower investigations, structural analysis and tower strengthening solutions.
Our projects include the following types of work:



Tower mounted antennae interface steelwork


Rooftop mounted walkways and cabin grillage steelwork


Feeder management systems


Ladder access systems


Bespoke tower jacking/bracing systems


Structural grillage/anchorage systems


Tower extensions


Structural investigations/analysis


Structural strengthening


Case Study
Reactive Maintenance
NG Rigging has completed many reactive works for various clients; the photos above are of a site we were asked to attend due to a fault showing up on the Airwave system, this was a high priority call out as the Airwave system manages all the Emergency Services.
read more