Survey and Design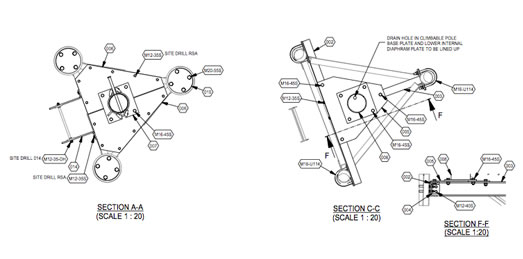 NG Rigging delivers a range of services to the telecommunications industry from initial site survey, through concept stage, to final design and installation. We specialise in the bespoke design of new structures and steelwork installations on existing masts, towers and buildings. We also carry out structural tower investigations, structural analysis and tower strengthening solutions.
Our projects include the following types of work:



Tower mounted antennae interface steelwork


Rooftop mounted walkways and cabin grillage steelwork


Feeder management systems


Ladder access systems


Bespoke tower jacking/bracing systems


Structural grillage/anchorage systems


Tower extensions


Structural investigations/analysis


Structural strengthening


Case Study
Structural Maintenance
In November 2011 NG Rigging were awarded a maintenance project on the high profile Arqiva owned Emley Moor transmission tower near Huddersfield, at 330m it is the UKs tallest freestanding structure and is also a Grade II listed building.
read more