Rope Access Wind Turbine Painting and Cleaning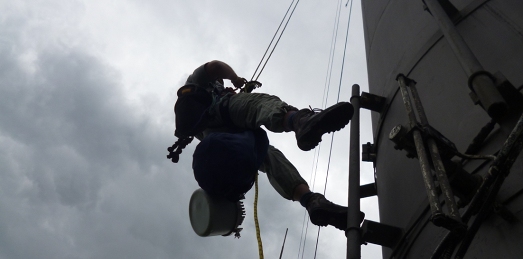 Due to the increase in renewable energy wind turbines coupled with the remote locations they are situated in, modern access techniques such as industrial abseiling offer a truly flexible option for carrying out maintenance tasks such as painting and cleaning.
Problem areas on the turbines such as the blades, nacelle or tower all require regular inspection and maintenance. Rope access offers quick and cost effective methods to carry out these tasks.

NG Rigging Wind Energy teams carry out rope access blade inspections, rope access blade repair, turbine tower cleaning and scheduled painting covering all areas of the structure.

NG Rigging has rope access wind energy teams on standby - Contact us for a quotation

Case Study
Structural Maintenance
In November 2011 NG Rigging were awarded a maintenance project on the high profile Arqiva owned Emley Moor transmission tower near Huddersfield, at 330m it is the UKs tallest freestanding structure and is also a Grade II listed building.
read more