Rope Access Wind Turbine Painting and Cleaning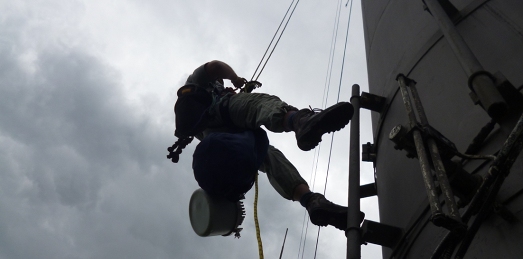 Due to the increase in renewable energy wind turbines coupled with the remote locations they are situated in, modern access techniques such as industrial abseiling offer a truly flexible option for carrying out maintenance tasks such as painting and cleaning.
Problem areas on the turbines such as the blades, nacelle or tower all require regular inspection and maintenance. Rope access offers quick and cost effective methods to carry out these tasks.

NG Rigging Wind Energy teams carry out rope access blade inspections, rope access blade repair, turbine tower cleaning and scheduled painting covering all areas of the structure.

NG Rigging has rope access wind energy teams on standby - Contact us for a quotation

Case Study
Digital Switchover Transmission Upgrade
In late 2009 NG Rigging were approached by The Bridge Networks North Ltd to provide consultancy and a specialist climbing team to aid in the removal and replacement of a large antenna cylinder mounted on the top of a 45m tower in Bristol. The planned upgrade works were to be the first major Digital Switchover project they would complete for Arqiva.
read more