Rope Access Bird Proofing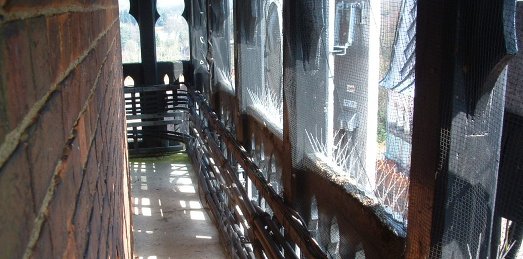 Protecting your building or structure from birds and their deposits is essential to maintain it's look and structural integrity.
It doesn't matter whether your building is located at the coast and suffers with a seagull problem or your building is in the city centre and occupied by pigeons the effect is still the same. Birds nesting in your rooftop or guttering are likely to cause water ingress as well as some structural damage and in extreme cases damage to wiring and cables. Bird mess on the windowsill or building ledge is unsightly and can in some cases also be quite unhealthy.

Using a either bird spikes, bird netting or wire (or a combination of all three) NG Rigging trained bird proofing rope access teams can assist you in making your building bird free.

As opposed to traditional access methods such as scaffolding or MEWPs, industrial rope access provides a true cost effective and flexible solution.

NG Rigging have rope access bird proofing teams on standby - Contact us for a quotation


Case Study
Fixed Derrick Tower Build
NG Rigging has completed quite a few tower builds for WB Internet and all have been built and erected using the fixed derrick method.
read more